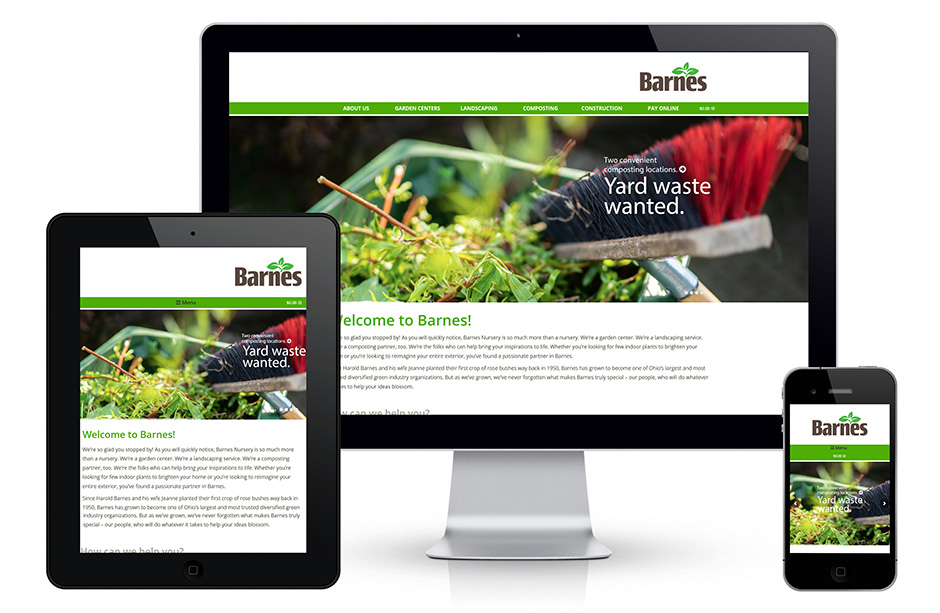 When Jody Dana, a well-known Cleveland based Art Director and Graphic Designer with over 35 years of experience, contacted Ohio Web Technologies, it was an honor to be chosen as the Cleveland Web Design team to build the new Barnes Nursery website. Working with other talented companies and individuals such as Jody is something we at Ohio Web Technologies love to do. While Jody took care of all of the design work, our team offered ideas on how to implement custom programmed solutions that complemented the design and enhanced the visitor experience.
Excellent Communication is Vital for Success
Great communication is essential when multiple parties are working on a project, and at Ohio Web Technologies, we understand this. This has been the one consistent item in almost every review we have received from our clients for over 20 years. Pair that with experienced developers, Jody's amazing design work, and the wonderful team at Barnes Nursery, and you have a new website that Barnes Nursery's customers will love.
Main Features of the New Barnes Nursery Website:
The new website design is crisp and clean, exactly what you would expect from such a talented Art Director like Jody. The navigation is easy to use, and the website loads extremely fast after implementing our own optimization techniques paired with our incredibly fast servers provided by our partners at Liquid Web.
The 2023 website release of Barnes Nursery is a business to business and business to consumer informational website with eCommerce. Some of the main features of the website include:
Work with local Art Director Jody Dana
Custom built WordPress Functions and Features
Responsive Mobile Friendly Website Design (Tablet, Mobile, PC)
Custom programmed sliders that change based on the season
Merger of separate WooCommerce website into the new barnesnursery.com website
Optimize WordPress & WooCommerce for Fast Website Load Times
Website Hosting
Website Security & Maintenance Plan
Following the completion of the project, Julie Barnes Foster, the owner of Barnes Nursery, provided the following review:

Barnes Nursery
Completely satisfied! We highly recommend Matt and his team.
They took our awesome design and made it come to life. We love our new site. OWT is extremely focused on quality and very detail orientated. They will have our business from here on out.
Choose Ohio Web Technologies as Your Web Development Partner
At Ohio Web Technologies, we are proud to partner with various graphic design & marketing companies to build their clients' websites. Our team of experienced web developers has a wealth of knowledge in creating customized web solutions that meet the needs of each client. We understand that every business is unique and has different requirements, which is why we work closely with graphic design & marketing companies to ensure that their clients' websites are tailored to their specific needs.
We believe that collaboration is key to creating successful websites, which is why we take the time to understand our partners' requirements and expectations. By working closely with graphic design & marketing companies, we can create websites that not only look great but also function seamlessly and offer an exceptional user experience for their clients.
Our team has extensive experience in developing websites for a variety of industries, including healthcare, finance, e-commerce, and more. We have the skills and expertise to handle projects of all sizes and complexities, and we always ensure that our work meets the highest standards of quality.
If you are a graphic design or marketing company looking to partner with a reliable Cleveland web development company, look no further than Ohio Web Technologies. We are committed to delivering outstanding results and providing exceptional customer service to our partners and their clients. Contact ustoday to learn more about how we can help you build your clients' next website.
Client: Barnes Nursery
Launch Date: February 8th, 2023
Services Provided:
Website Design, Website Development, WordPress Experience, Server Setup, Website Maintenance, Website Optimization