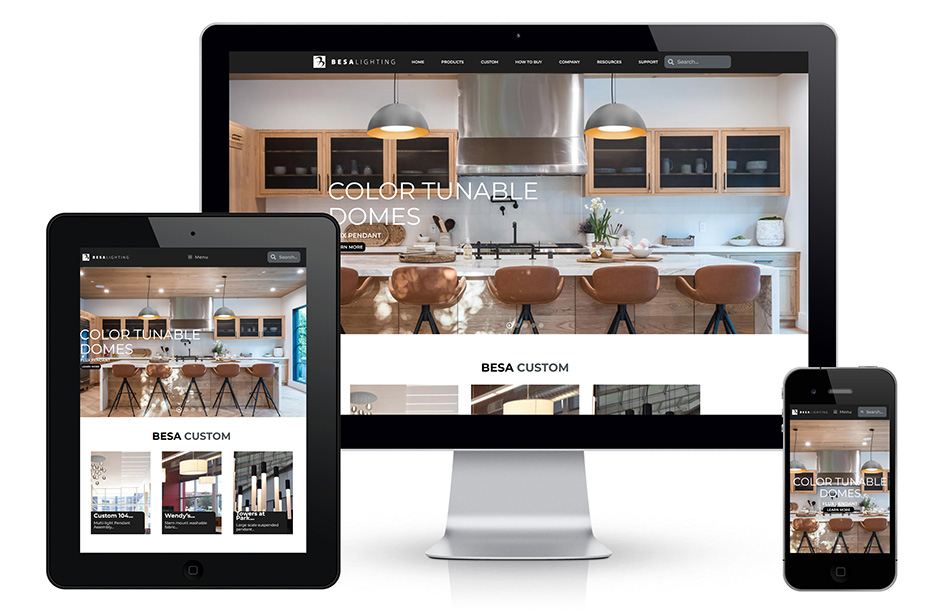 When Besa Lighting needed to convert their Drupal CMS website to WordPress, they contacted Ohio Web Technologies – a top Cleveland web design company with over 15 years of experience working with all of the top CMS systems. In this project, Ohio Web Technologies leveraged their vast experience in creating custom WordPress plugins, integrations, and conversions to deliver a successful outcome for Besa Lighting.
Experience with WordPress
At Ohio Web Technologies, we have been working with WordPress since its inception in 2003. In fact, we have been creating custom WordPress plugins, integrations, and conversions since 2008 – long before many others even knew about WordPress. As of 2023, 43% of all websites worldwide are built on WordPress. With our experienced development team leading the way, our wonderful reviews on Google, UpCity, and Facebook, Ohio Web Technologies was the ideal choice for Besa Lighting.
The newly designed website for Besa Lighting features a clean and crisp design with easy navigation. With over 10,000 products in their database, the website loads extremely fast after implementing our own optimization techniques paired with our incredibly fast servers provided by our partners at Liquid Web.
Main Features of the New Besa Lighting Website:
The 2023 website release of Besa Lighting is a business-to-business informational website with a custom developed sales rep portal that is easy to navigate and packed full of information yet straight to the point. Some of the main features of the website include:
Extended Graphic Design that utilizes white space
Custom built WordPress Functions and Features
Responsive Mobile Friendly Website Design (Tablet, Mobile, PC)
Custom programmed sales portal to lookup 10,000+ product specs with images
Base Search Engine Optimization / Analytics / Monitoring
Fast Website Load Times
Website Security & Maintenance Plan
Contact Ohio Web Technologies
If you are looking to work with one of the top Cleveland web development companies for your next website redesign or to move from your current Content Management System to WordPress, look no further than Ohio Web Technologies. Contact us today to learn how we can help you achieve your website goals.
Client: Besa Lighting
Launch Date: February 2nd, 2023
Services Provided:
Graphics Design, Website Design, Website Development, WordPress Experience, Drupal Experience, SEO Enhancements, Server Setup, Website Maintenance, Website Optimization