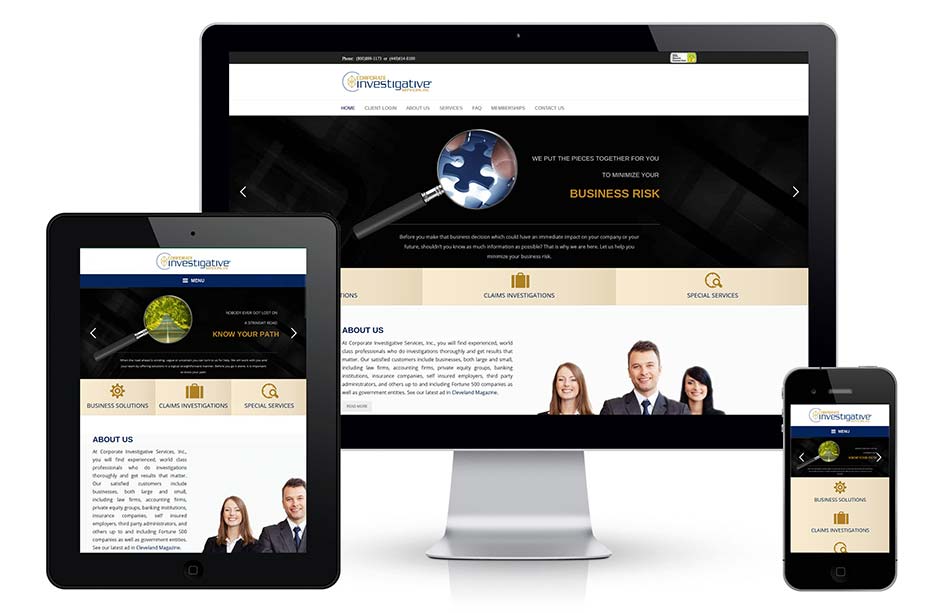 Ohio Web Technologies has had the privilege of being chosen as the Cleveland website designers of choice for Corporate Investigative Services, Inc. Working with CIS Pros was like well played symphony. The daily communication during the project build was key to organizing and guiding the content creation. They were thorough and precise with every choice they made, something you would expect when working with former members of the FBI.
The 2016 website release of CIS Pros is a business to business informational website that is easy to navigate, packed full of information and straight to the point. Here are some of the main features of the website:
Extended Graphic Design that utilizes white space
Responsive Mobile Friendly Website Design (Tablet, Mobile, PC)
Fully Integrated Search Engine Optimization (SEO) / Analytics / Monitoring
Private Client Area for Reporting Cases
Contact Forms Sent Securely From Starting Point to Ending Point
Fast Website Load Times
Website Security and Monitoring
After the project was complete, here is what CIS Pros had to say in their review the left on UpCity:
Corporate Investigative Services
Bill Taylor – President
We initially made contact with Matt Vincik and his company Ohio Web Technologies in early September 2015 based on a referral from a mutual professional writer and columnist.
Since that time we have been very pleased with this association and level of service. Matt and his company have done great job. They did exactly what they said they would do and did it in a cost effective and timely fashion.
They actually answer their phone when we call and take the time to address our issues and concerns. This is a big plus for us.
Who can you call to get that level of attention and customer service? "Nobody"
They have earned the right to be a part of our professional team.
Client: Corporate Investigative Services, Inc.
Launch Date: January 4, 2016
Services Provided:
Graphic Design, SEO, Website Design