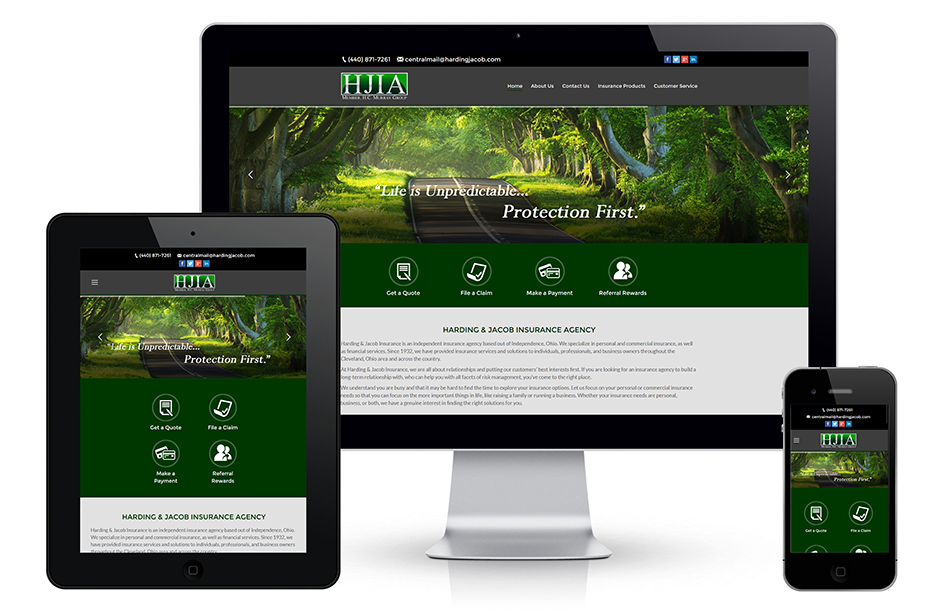 Ohio Web Technologies has been privileged to be selected as the preferred web design company in Cleveland by Harding & Jacob Insurance Agency. The collaboration with Harding & Jacob entailed a daily process of meticulously refining every aspect of the project, underscoring the criticality of effective communication in achieving project success. Diligently adhering to communication practices consistently yields remarkable outcomes. This is the caliber of relationship one can anticipate when engaging with Ohio Web Technologies. The Harding & Jacob website exemplifies our cutting-edge website technology, SEO enhancements, programming expertise, and speed optimizations.
The latest release of the Harding & Jacob Insurance website serves as an informative business-to-consumer platform, characterized by user-friendly navigation, comprehensive information, and a straightforward approach. Here are some of the main features of the website:
Extended Graphic Design with effective utilization of white space
Responsive and Mobile-Friendly Website Design for multiple devices (Tablet, Mobile, PC)
Complete integration of Search Engine Optimization (SEO), Analytics, and Monitoring
Seamless integration of Constant Contact Newsletter Functionality
Custom Programmed Companies Section featuring Payment and Claim Information
Optimized for fast website load times
Robust Website Security and Continuous Monitoring
After the project was complete, here is what Harding & Jacob had to say in a review they left on Google:
Harding & Jacob Insurance
Allyson Murray, JD – Business Development Manager
Ohio Web Technologies did an excellent job of updating our website and we could not be happier with the end result. They were easy to work with and great communicators. We were always in the loop on the status of their progress, and they implemented changes right away. We highly recommend Ohio Web Technologies for website design services and look forward to working with them again in the future.
If you are looking for the a Cleveland website design company to thoroughly and securely complete your next website, contact Ohio Web Technologies for a free quote.