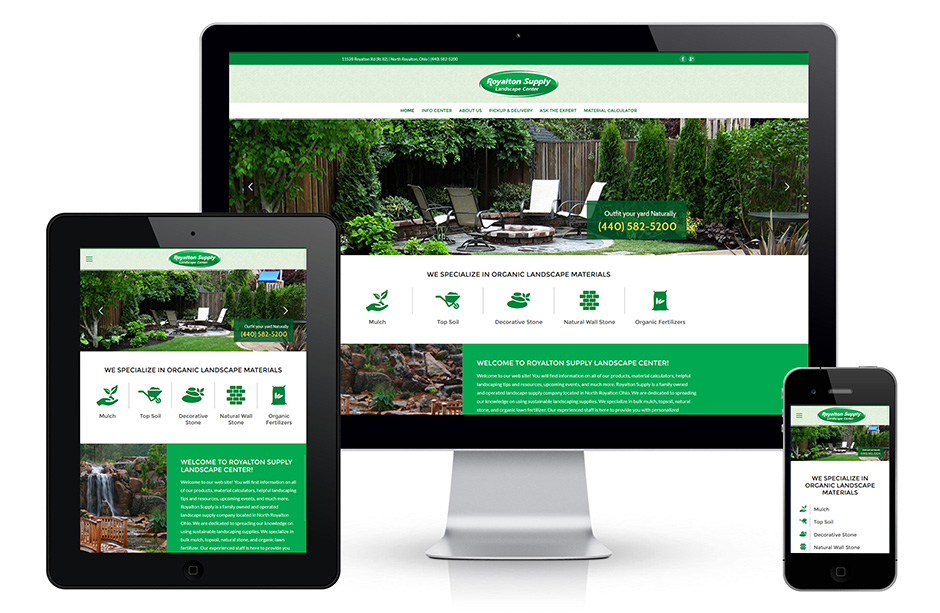 Ohio Web Technologies has had the privilege of being chosen as the best Cleveland website designers of choice for Royalton Supply Landscape Center. Working with Royalton Supply owned by Abraxxus was an easy task as this is the second website we have developed for them. Treating your clients with respect and serving them well over the years will always result in referrals and repeat business. This is the kind of relation you can expect when working with Ohio Web Technologies. The Royalton Supply website features our latest website technology, SEO enhancements, programming, and speed enhancements.
The 2016 website release of Royalton Supply is a business to consumer informational website that is easy to navigate, packed full of information and straight to the point. Here are some of the main features of the website:
Extended Graphic Design that utilizes white space
Responsive Mobile Friendly Website Design (Tablet, Mobile, PC)
Fully Integrated Search Engine Optimization (SEO) / Analytics / Monitoring
Integrated Newsletter Functionality
Fast Website Load Times
Website Security and Monitoring
After the project was complete, here is what Royalton Supply had to say in a review they left on Google:
Royalton Supply Landscape Center
Doug Ellis – Sales Manager
Working with the team at Ohio Web Technologies is always a pleasure! The work they do is always top notch and on time (most of the time earlier!). I have used them to do three of our web sites and would recommend them to everyone I know! If you need a new site or want them to revamp a old site to bring it up to date these are your guys to use! Did I mention they are based out of Ohio!!! Great guys and excellent work!
Client: Royalton Supply Landscape Center
Launch Date: April 25, 2016
Services Provided:
Website Design, Website Development, Graphic Design