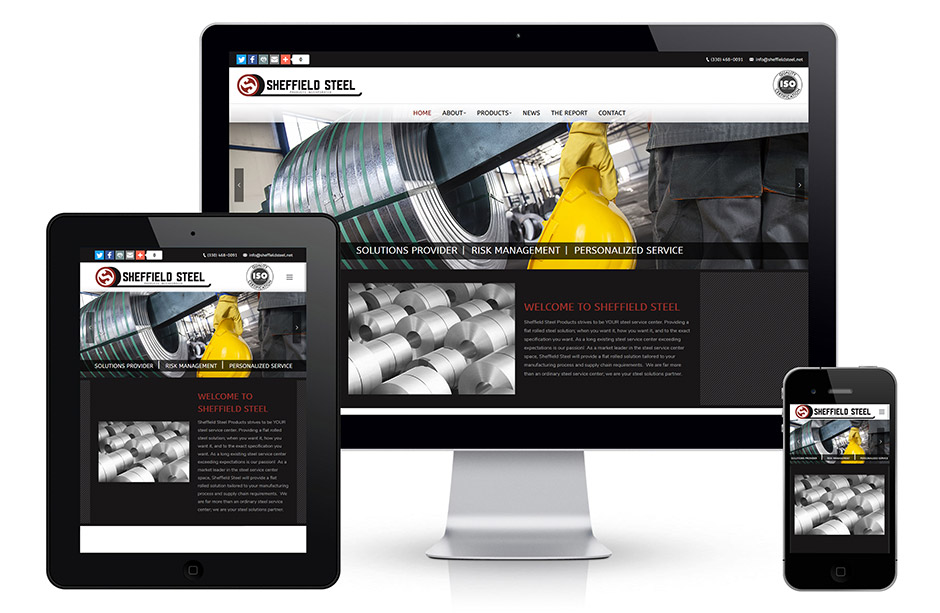 We were approached by Sheffield Steel, a steel solutions provider based in Macedonia, Ohio, to revamp their website and create an industrial look that would appeal to their business-to-business customers. As the chosen WordPress Developers, we embarked on this project, gaining valuable insights into the steel industry through collaboration with Sheffield Steel's executive team. What sets them apart is their exceptional knowledge and expertise in the field, not only supplying rolled steel and aluminum but also offering solutions for complex industry challenges. With over 60 years in business and a combined manufacturing experience of 200 years, Sheffield Steel has built a remarkable reputation.
During the development process, we had the privilege of hearing personal anecdotes from one of the executives about their childhood experiences at the steel mills alongside their grandfather. This multi-generational wealth of experience and passion for the steel industry became a driving force behind our redesign. We were captivated by the inherent beauty of steel mills, the diverse range of steel rolls, and the profound impact of Sheffield Steel's products and services on our daily lives. Working with their team was an honor, and we anticipate their continued success and growth in the years to come. If you seek comprehensive steel market data and analysis, don't miss out on THE REPORT, regularly updated with the latest information.
Here are the key features of this website design project in Macedonia, Ohio:
Innovative graphic design incorporating the latest trends
Responsive, mobile-friendly website design optimized for tablet, mobile, and PC
Seamless integration of Search Engine Optimization (SEO), analytics, and monitoring
Weekly reporting for valuable insights
Social sharing functionality to expand online presence
Fast website loading times for an enhanced user experience
Robust website security and monitoring measures
If you're in need of a local Cleveland web design company to create a business-to-business website, reach out to Ohio Web Technologies today for a free quote.