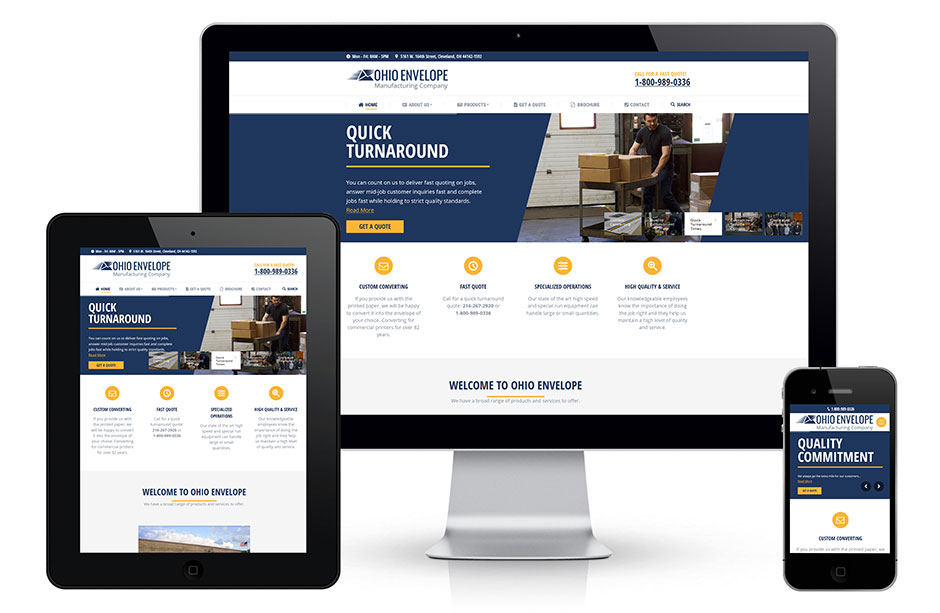 In February of 2018 Ohio Web Technologies was contacted by Ohio Envelope Manufacturing Company who was looking for an affordable yet professional website redesign from a top Cleveland web design company. We are very grateful that we had the privilege of being chosen as their Cleveland web design company of choice.
The newly designed website was part of a multilevel marketing campaign. It needed to accurately convey the companies 80+ years of excellence in their industry. We worked with multiple 3rd party providers such as the project manager, logo designer, photographer and company president to assemble the perfect final product. This project is a testimony to how well multiple providers can work together to produce a finished product for a common client. We would like to thank Jodi Marchewitz for finalizing the recommendation to Ohio Envelope Manufacturing Company to choose OWT and for being such an amazing project manager to work with on this website redesign project.
The 2018 website release of Ohio Envelope Manufacturing Company is a business to business informational website that is easy to navigate, packed full of information yet straight to the point. Here are some of the main features of the website:
Extended Graphic Design that utilizes white space
Responsive Mobile Friendly Website Design (Tablet, Mobile, PC)
Conditional Logic Forms with Database Stored Entries
Base Search Engine Optimization / Analytics / Monitoring
Fast Website Load Times
Website Security & Maintenance Plan
After we launched the new website, OEM had some very positive things to say on Google Reviews about their experience working with us:
Ohio Envelope Manufacturing Company
Brian Meek – President
We worked with Ohio Web Technologies to redesign our company's website. Matt did a great job. He was very responsive and met all agreed deadlines. Everything met or exceeded our expectations. We had no issues or complaints. Very pleased. I would highly recommend Matt and his team.
Ohio Envelope Manufacturing Company
Jodi Marchewitz – Project Manager
Matt was extremely responsive to all of our requests and did an outstanding job with meeting all of our needs – for planning, design & implementation. It was very easy to communicate with Matt. He offered flexibility in the time of day we could connect, he was super fast turning around design changes and edits and has a deep understanding of the way websites work and the technical considerations.
If you are looking to work with one of the top web design companies in Cleveland for your next website redesign project, contact Ohio Web Technologies.
Client: Ohio Envelope Manufacturing Co.
Launch Date: March 9, 2018
Services Provided:
Website Design, Website Development