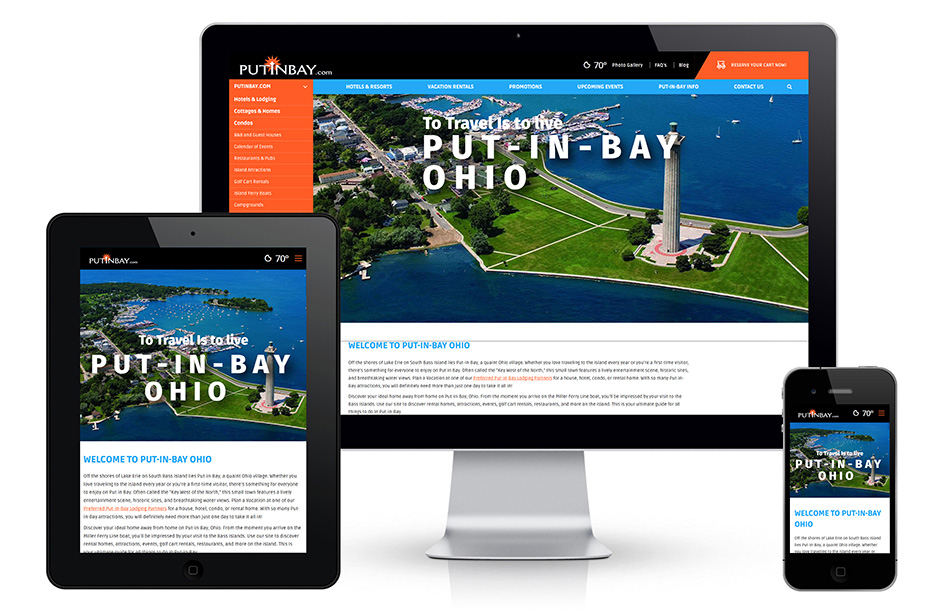 In December of 2018 Ohio Web Technologies was contacted by the owners of Putinbay.com who were looking for a Cleveland web site design company with experience working with travel websites to redesign their website using local Cleveland website designers. We are very grateful that we had the privilege of being chosen as their Cleveland web design company of choice.
The newly designed website required a high level of SEO, website speed optimization, custom programming for WordPress, integrated Chat functions, reservation modules and year round maintenance. We worked the owner, project manager and serveral vendors to integrate various system in to the website.
We launched the website in spring of 2019. The project was a great success for the team at PUTINBAY.com and for OWT. We currently maintain the websites security and updates on a regular basis while PUTINBAY.com maintains the content. We would like to extend our gratitude for choosing our local Cleveland Website Designers for their project. We encourage everyone to visit Putinbay and experience one of Ohio's historical treasures on Lake Erie. There is so much to do on Put-In-Bay from fishing, boating, mine tours, winery, restaurants, shopping, camping, condos, resorts, and festivals. Visit Putinbay.com for all the details.
Here are some of the main features of the website:
Extended Graphic Design that utilizes white space
Responsive Mobile Friendly Website Design (Tablet, Mobile, PC)
Dynamic content to help maximize Search Engine Optimization and online presence
Live Chat capabilities
Schema Implementation
Extensive Search Engine Optimization / Analytics / Monitoring
Fast Website Load Times
Website Security & Maintenance Plan
Client: Put-In-Bay
Launch Date: April 15, 2019
Services Provided:
Website Design, Website Development, WordPress Development, API Integrations