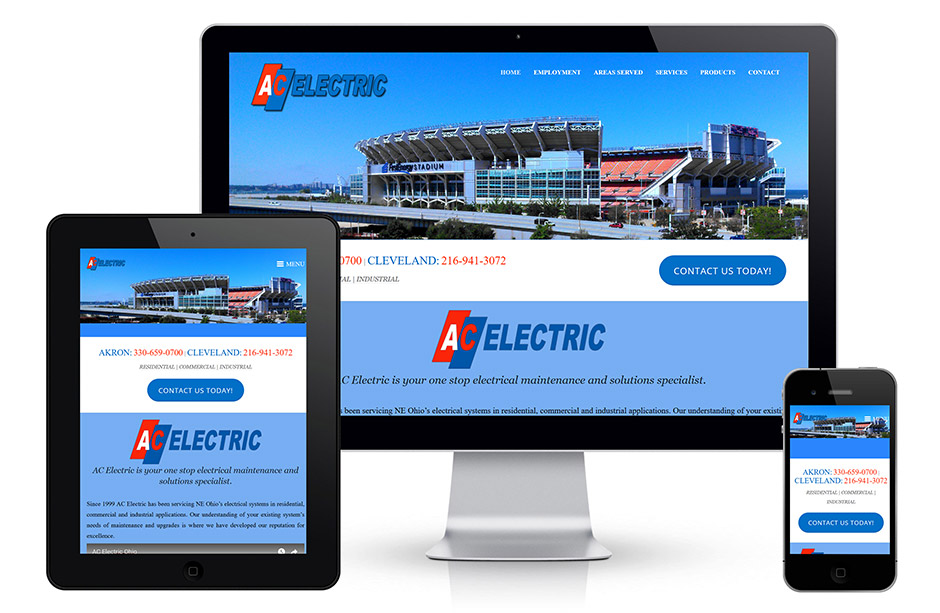 AC Electric, a rapidly expanding electrical contracting company in North Eastern Ohio, entrusted Ohio Web Technologies (OWT) to create their remarkable website. Developed using WordPress, the AC Electric website boasts a mobile and tablet-responsive framework, captivating parallax effects, a dynamic menu, city-specific SEO implementation, a testimonial carousel, an employee application section, and seamless Google map integration.
When AC Electric initially approached OWT, they expressed their dissatisfaction with two previous design firms that failed to deliver on their promises. While some companies might perceive this as a potential challenge, OWT did not hesitate. We recognized the arduous journey AC Electric had endured and felt compelled to rise to the occasion and deliver exceptional results. That is precisely what we accomplished. We now maintain a close partnership with AC Electric, actively assisting them in achieving their long-term business objectives and sustaining their ongoing growth.
Following the completion of the project, Asmint Cruz the owner of AC Electric Ohio, provided the following review:

AC Electric
The website built by OWT can be described in only one method—an overwhelming success! I can honestly say out of all the advertising mediums we've used, the website has by far exceeded our expectation.
Ohio Web Technologies wants you to understand that we set ourselves apart from the competition by meeting our clients challenges head on and offer you the security of a job well done from start to finish. Please contact us for a free quote today if you are interested in becoming our next successful long term client.