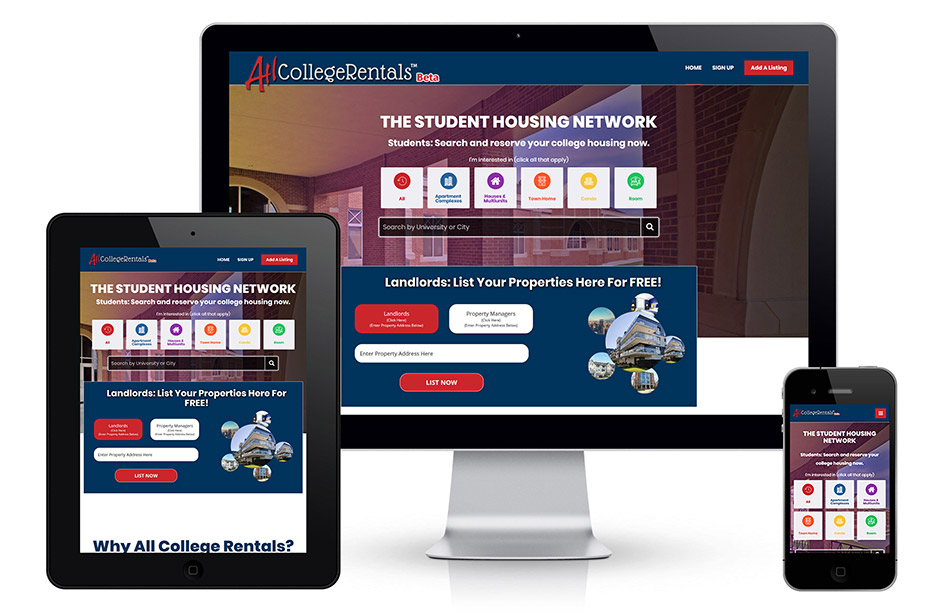 In September of 2017 Ohio Web Technologies was contacted by All College Rentals who was looking for a local PHP development company to build their website from the ground up. Due to the scope of this project, we spent several months with the owners of All College Rentals planning every aspect of the new build and design.
During the discovery sessions we determined that the website would be best suited on the Laravel PHP Framework. Laravel is best suited for High End website applications that will interface with large scale Mobile Apps allowing for millions of users world wide, multiple source API integration and high end scalable solutions.
We started the project in April of 2018. The initial build took six months with a dedicated team of developers here at Ohio Web Technologies. For these six months, we met with All College Rentals every Monday, Wednesday and Friday to monitor and discuss the progress. During this time we met all of our milestone dates and launched the website on time as promised. We even added in additional development requests along the way. To date, we are continuously working with the owners to expand the business and website in multiple areas.
This project can only be described as a major success for both Ohio Web Technologies and All College Rentals. Their popularity and market share continues to grow daily as the feedback from their clients and visitors remains outstanding.
Here are some of the main features of the website:
High Level Graphic Design Mock-ups
Responsive Mobile Friendly Website Design (Tablet, Mobile, PC)
Custom Programmed Laravel PHP Development
Website Security & Multiple API Integrations
APP Ready Hooks
Search Engine Optimization / Analytics / Monitoring
Fast Website Load Times
Client: All College Rentals
Launch Date: November 1, 2018
Services Provided:
Graphic Design, UI/UX Design, Laravel PHP Development, API Integration, Mobile APP Development