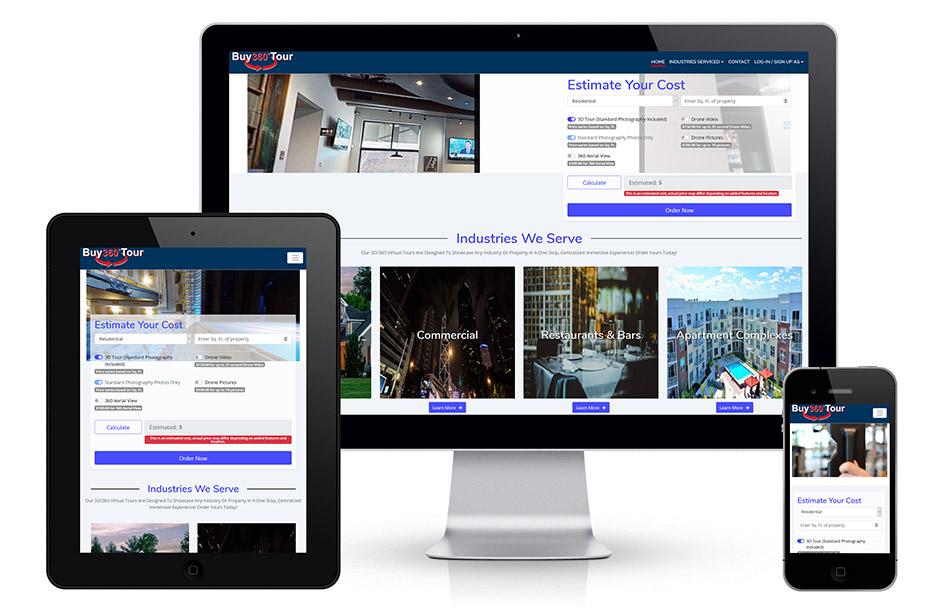 Our clients at All College Rentals started a new company at the end of 2019 where you can order a virtual tour of your property. This cutting-edge website was developed by the Cleveland Laravel developers here at Ohio Web Technologies.
After a month of weekly meetings, we moved forward with the development. The entire project took three months to build from the ground up on the Laravel PHP Framework. The website was launched in March of 2020, which is right before the quarantine period for COVID-19 started here in Ohio.
After the website was launched, we continued development for several additional features based upon end user and administration feedback. Since the launch, BUY360Tour has successfully booked 30-60+ virtual tours per week. The project was a huge success!
Why did we choose the Laravel PHP platform?
The first website that we developed for All College Rentals was also built by the Cleveland Laravel developers at Ohio Web Technologies. This PHP platform is lightweight, fast and integrates very well when planning to launch a mobile APP that connects back to the websites database. A WordPress website simply will not stand up over time with this kind of expansion.
It made a lot of sense to build the second website also using the Laravel framework for many reasons. The client was familiar with the dashboard. They were confident in the speed and security. They understood the advantages of being able to integrate a mobile APP and if there were any possibilities of integrating the two websites, it makes it a lot easier when they are both built on the same platform. You can read more about the Laravel platform at https://laravel.com/.
Top Laravel Developers in Cleveland & Akron Area
After working on the Buy360Tour project and many others, we were recently voted as one of the top web developers in Akron by expertise.com. This came as a big surprise. While the biggest reward we can get is the success of our clients, it was a big win for our development team.
Client: Buy 360 Tour
Launch Date: March 5, 2020
Services Provided:
Website Design, Laravel PHP Framework Development, Javascript, Graphic Design