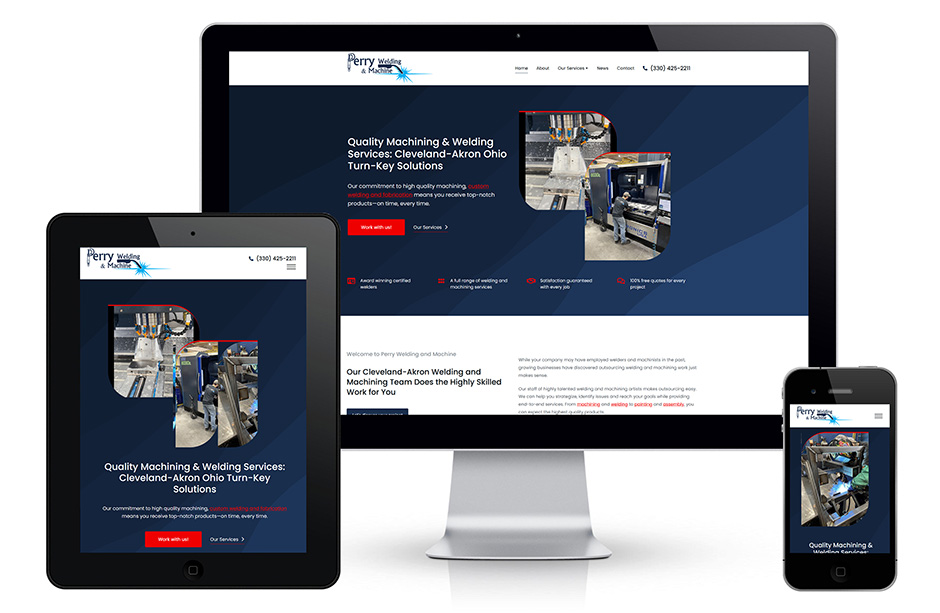 Ohio Web Technologies was contacted by Perry Welding who was looking for the best Cleveland web design company to redesign their website. For Perry Welding, we chose WordPress as the content management system utilizing the front end editing capabilities of Elementor to give them a website that was easy for everyone to edit from the front end yet powerful enough to pack in the speed and SEO Optimization that was needed to help boost their traffic.
Our local Cleveland SEO expert content writer interviewed the owner. Next, we researched the services that our content writer would create. We then produced the copy and submitted the copy to the client for a final review to make sure that the seo rich content kept their voice.
While the content was being created, our local Cleveland graphic design team had produced a design that was beautiful. The design was approved and our local Cleveland WordPress developers went to work on creating the WordPress theme. After the initial build was completed, we added a few optimized videos and animations to bring a little movement and life to the website.
When the project was completed, the website was as crisp and clean as the work environment Perry Welding provides for it's employees. The navigation is easy to use. The website scored an A+ rating on gtmetrix.com after implementing our own optimization techniques paired with our incredibly fast servers provided by our partners at Liquid Web.
A few months later, we reviewed the search engine rankings and all of the terms we had targeted had significant jumps in rankings and we are rather certain that over time, the search engine rankings will continue to climb or stay in the top positions.
The 2022 website release of Perry Welding is a business to business informational website that is easy to navigate, packed full of information yet straight to the point. Here are some of the main features of the website:
If you are looking to work with one of the top Cleveland web development companies for your next website redesign or you are looking to move from your current Content Management System to WordPress, contact Ohio Web Technologies.
Client: Perry Welding
Launch Date: December 1st, 2022
Services Provided:
Graphics Design, Website Design, Website Development, WordPress Experience, Elementor, SEO Enhancements, SEO Content Writing, Website Maintenance, Website Optimization, Website Hosting