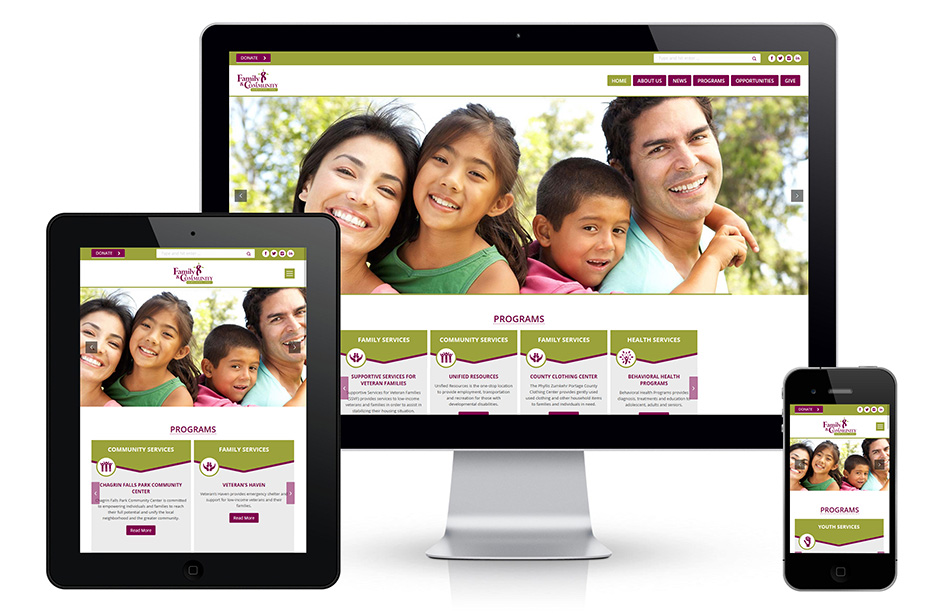 Ohio Web Technologies has had the privilege of being chosen as the Ravenna website design company of choice for Family and Community Services. Working with Family and Community services was truly an honor. We knew immediately that this website redesign would impact the lives of families in and around our own community. We wanted to make sure that everyone had the opportunity to get the program information they needed from their computer, tablet or phone. With over 50+ programs, each being so vital to so many different people, we had to come up with a way to give each one of those programs a featured spot on the homepage and an easy way for people to filter programs that they needed the most. We wanted to give the website an elegant look and feel while keeping it simple to use. Great thought went in to each layout and function to achieve all the goals of this website design project.
The communication we had with Family and Community Services was exceptional. Our ideas were in perfect harmony and the end results reflect that of everyone involved. This is the kind of relation you can expect when working with Ohio Web Technologies. The Family and Community Services website features our latest website technology, SEO enhancements, custom programming with the Programs carousel and supporters carousel using custom post types in WordPress that are easy to update, add and remove. The website also features a fully integrated Events Calendar and Newsletter modules. This allows Family and Community Services to promote events and send out newsletters to all those that subscribe.
The 2016 website release of Family and Community Services is a Non Profit informational website that is easy to navigate, packed full of information and straight to the point. Here are some of the main features of this Ravenna website design project:
Extended Graphic Design that Utilizes the Latest in Design
Responsive Mobile Friendly Website Design (Tablet, Mobile, PC)
Fully Integrated Search Engine Optimization (SEO) / Analytics / Monitoring
Integrated Newsletter Functionality – Signup, Send, Tracking
Custom Developed Programs Section with Filtering and Carousel
Custom Developed Supporters and Accreditation Carousel
Events Calendar with Automatic Posting to Homepage
Social Sharing
Fast Website Load Times
Website Security and Monitoring
Website Maintenance Program
If you are looking for the a Ravenna website design company to thoroughly and securely complete your next website, contact Ohio Web Technologies.
Client: Family and Community Serives
Launch Date: November 20, 2016
Services Provided:
Website Design, Website Development